In January, the Bus Project brought on Nathan Howard as our Interim Executive Director for a short-term contract to support the Bus through an opportunity-filled legislative session and keep the organization strong while the board started a strategic planning process. We've achieved our audacious 6-year goal of making voter registration automatic and our strategic planning process is fully underway.
As we create plans for the future, the time is right to announce that after undertaking a national search, we have found our amazing new Executive Director: Nikki Fisher!
---
Oregon's civic landscape is about to change forever, with over 300,000 new voters from New Motor Voter, and we have a new leader for that new landscape. Nikki Fisher has the right skills and experience to bring those new voters into the process and take them from first-time participants to lifelong social justice voters.
Nikki's unique blend of hard political campaign experience, ballot measure organizing, issue advocacy and engagement, and deep commitment to Oregon will help the Bus Project meet the needs of the New Motor Voters and the bold new progressive landscape Oregon is embarking upon. With her talented organizing team of Amy and Aaron, the Bus will build on Oregon's new progressive era to pass bold social justice policies and develop a new generation of diverse leaders and candidates.
Nikki joins the Bus after serving as Senator Sara Gelser's Chief of Staff in the historic 2015 legislative session, where she helped Sen. Gelser pass landmark laws protecting domestic workers, campus sexual assault survivors, and LGBTQ Oregonians. Before that, she served as Sen. Gelser's campaign manager, where she led hundreds of volunteers to knock on over 100,000 doors and win!
Before her foray into candidate politics, she ran the Eugene Office for Oregon United for Marriage, and spent four years running field and advocacy with the ACLU of Florida. Though she did spend a little time in Florida for college and ACLU-ing (we forgive her), she was born and raised in Portland, a proud graduate of David Douglas, and does all kinds of Portland things like hiking, biking, running, and brunching.
New Motor Voter is a transformative social justice reform that will change the landscape of Oregon democracy, and we are thrilled to have Nikki leading the Bus to engage and educate these new voters!
Nathan and the Board of Directors are supporting Nikki as she hits the ground running later this month and invite you to connect with her to share your ideas and feedback. We're planning a welcome party for Nikki in mid-July; keep your eyes pealed for an invitation.
*********
It's a truly exciting time to be on the Bus.
Sincerely,
Amy Sample Ward
Bus Project Foundation Board Chair
Joe Baessler
Bus Project Board Chair
---
The Bus made great strides this year to engage, empower and educate young leaders, and we've got a strong crew to jump into summer organizing and host the 11th anniversary of PolitiCorps Summer.
Here's a quick lowdown on what we're currently working on: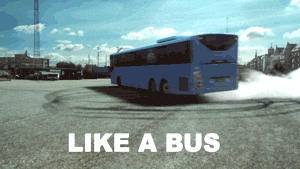 Sincerely,
Amy Sample Ward, Bus Project Foundation Board Chair
Joe Baessler, Bus Project Board Chair