We had a wonderful evening last Thursday to celebrate our #newmotorvoter victory and to talk about what lies ahead for voting enfranchisement for the Bus Project and our partner organizations. Tremendous thanks to Senator Elizabeth Steiner Hayward and Senator Michael Dembrow for speaking with the Bus Project and the Center for Intercultural Organizing, Common Cause Oregon and the Oregon Student Association. A big thanks also to our gracious hosts at Cup & Bar, and to our presenters for the gratuitous photos of cute cats throughout the slideshows highlighting the next steps for voting rights. We'll have another Brewhaha in a few weeks; keep your eyes pealed!
LEGISLATIVE UPDATE
New Motor Voter: Success! You probably already knew that. But it's a pretty big victory, and it's worth reiterating that many young Oregonians will have better access to the ballot thanks to New Motor Voter. It's arguably the country's biggest voter enfranchisement bill in decades, and similar policies are now being proposed in Illinois and California. We're laying the groundwork for a great 18 months of reaching out to young voters leading up to the 2016 elections; send us a message if you want to help us ensure all these newly registered voters get to the polls. As a sign of thanks, we'll also send you a nice .gif of VoteBot dancing.
Fresh Start Oregon: Ongoing! While House Bill 3372 died in committee, we've been closely working with legislators who are currently working to include similar language into a new bill currently being debated in Salem. This is in no small part due to the overwhelming response from Bus Project volunteers like you. When 1700+ Oregonians demand that marijuana charges should no longer ruin lives, our legislators listen. We're eager to see this bill through to success, and we'll be announcing volunteer opportunties soon (potentially in the next week), so stay tuned! Have you signed the petition yet? And if so, can you share it with your friends?
OTHER BILLS WE ARE WATCHING
Many of these great causes are going down to the wire, and could greatly use your support:
CAMPAIGN FINANCE REFORM: As we learned at the Brewhaha last week, Oregon is only one Senate vote away from passing a bill to allow Oregonians to vote on campaign finance limits in 2016. SJR 5 would empower everyday Oregonians to participate more fully in the political decision-making process by eliminating the influence of big money on elections. We've endorsed the bill and we encourage Bus supporters to go sign the petition circulated by our pals at Common Cause Oregon.
ACTION ON CLIMATE: Oregon Climate's been kicking butt and taking names in Salem. Thanks to their work, there's two bills being discussed to price carbon, and there's a forthcoming hearing on a bill to implement their cap and dividend bill. We'll be sure to share details as their available. Here's how to get involved!
ENDING PROFILING: Across Oregon, people are targeted based on their race, ethnicity, religion, national origin, language, housing status, sexual orientation, or gender identity – in the streets, in our schools, and in our own neighborhoods. That's obviously no good. The Bus Project encourages you to sign the petition circulated by the Center For Intercultural Organizing in support of House Bill 2002.
PAY IT FORWARD: Student debt is crippling the ability of the next generation of Oregonians to afford higher education. The Bus Project testified in March to support the Pay It Forward bill, which would allow students to attend public universities debt-free by promising to pay a share of their future income after graduation. Learn more about how you can support Pay It Forward.
OUTDOOR SCHOOL: Nothing quite defines growing up in Oregon quite like that week spent in the woods with Outdoor School. If you send a quick letter, we can help ensure funding for a full week of Outdoor School for every 5th and 6th grader in the state. Seems like a worthy use of 60 seconds, yeah?
Inspired by all the cool work we're doing, and lamenting you can't volunteer with us? That's okay. Donating $50, $20, even $10 helps us keep VoteBot well-oiled, clipboards in the hands of our PolitiCorps Fellows, and our volunteers well-fed.
Consider throwing a few bucks our way, so we can do more of this: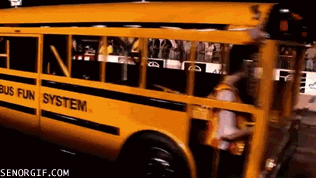 Onward Team Bus!